Vogue 8982-- Another Marcy Tilton Jacket
Front and Back of Fabric
I've been hoarding this fabric for a jacket that will showcase both sides. One side is a black background with purple, green and tan leaves, and the other side is the tan, with black, green and purple leaves. I found it at Fabricville, and bought it when it was
Buy one meter. Get 2 for free
. So, for $14.99 I scored 3 meters of this gorgeous fabric. Although it is a woven, there is a bit of a stretch to it. It is probably a polyester blend.
I decided to use this pattern, Vogue 8982, as I have made it twice before, and it is one of my favourite things to wear. The first jacket was in a linen, and the second in a knit. Because I bought this pattern sizes 16-24, I had to take an inch out of the Center back, and I also lengthened it 3 and 1/2 inches.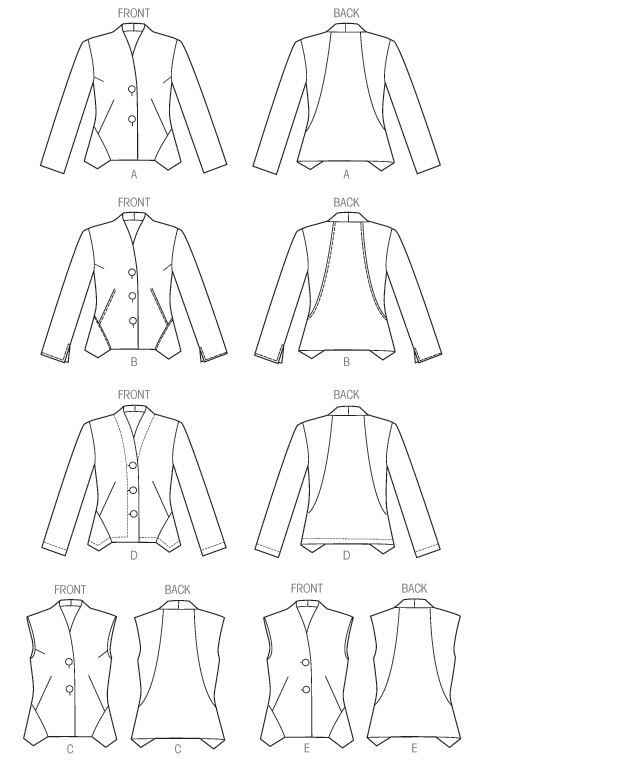 The lengthening meant that I had to fudge the curve of the bottom front, and fiddle with the dart ending, to match how the back comes around in a curve to meet the front. For the side back piece, I chose to use the contrast, so that the seam lines show up as a design feature.
Now, if you have been reading my blog, you will know that I tend to want to rush through to see how the fit is, but because I have made this twice before, I know that I can challenge myself to slow down, and make some design changes, beside featuring the contrasting inside and out fabric.
So:
I want to add two welt pockets to the front of the jacket, as my hands always search for these in my other two iterations.
I want to make the facing on the outside, so that the contrast fabric shows.
I think cuffs in the contrast fabric would be a nice touch.
I've cut, marked all notches and squares, and the two front darts. I've pinned it together to see how the contrasting fabrics match. I think I will sit on it for the evening, and think about the seam finishes; the type of interfacing on the now outside facings and cuffs, and decide if I can live with my choices.
See how mature I'm being? I'd appreciate any comments or suggestions! But, my friend Deb, from Salisbury will be arriving this weekend for some shared sewing, so I know that she will also give me some thoughtful advice.